Radios are critical tools for spreading information. This is especially true in developing communities where being able to hear a broadcast can keep vital lines of communication open between communities. However, this can be a challenge if the community has no way to generate electricity.
In 1994, Trevor Baylis had invented the "clockwork radio" and realized his invention could help stop the spread of AIDS in Africa through better education. This insight led to the development of Freeplay Radios, which do not require batteries and are solar-powered and hand-cranked. With a grant from the British Government and support from co-founder Rory Stear, Freeplay was born.
Freeplay radios, placed in a tent or village gathering spot, quickly became tools for learning and organizing communities. These radios have been distributed throughout the world to provide school classes, public health information, and news bulletins in times of disaster. It has been reported that the Freeplay radio was considered such a desirable tool in Nigeria that the government implemented a program trading the radios for illicit guns.
The Freeplay product range now includes hand-cranked flashlights and lanterns and mobile phone chargers. P'lovers carries Freeplay products because of their story, because of their quality, and because, even in North America, these products are most useful for camping and for times when conventional power fails.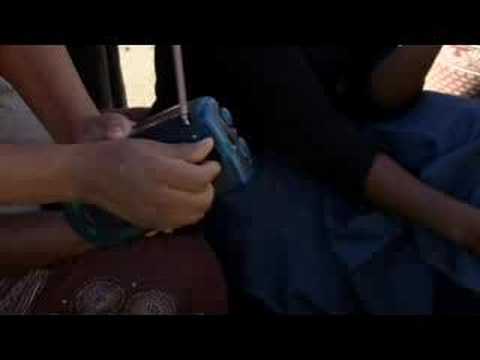 Read what one of Freeplay's cofounders, Rory Stear, has to say about his work at www.principalvoices.com and about the Lifeline radio project at www.freeplayfoundation.org.
Tags: Products, Radio, Solar Power, Video